FNAF: Purgatory
FNAF: Purgatory 2 is coming!
---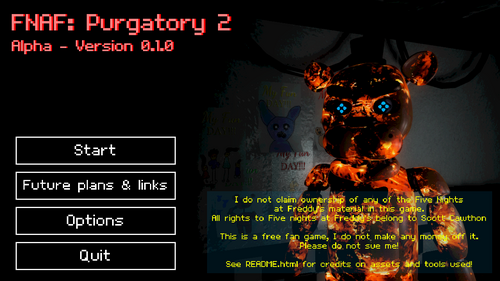 Hi everybody!
Things have been busy this past month, mainly because... FNAF Purgatory 2 is coming out!
I started working on the next update to FNAF: Purgatory and realized that I was basically changing everything. I decided this was the perfect opportunity to start fresh, taking the lessons I learned making FNAF:Purgatory to make FNAF:Purgatory 2 something amazing.

Currently there is no ETA for FNAF:Purgatory 2, but I'm trying to get a alpha build ready for early June. Please follow me on Itch.io if you want to be notified when the alpha for the game is released. I'll make another devlog post when the game page is up and the alpha is ready for download.

And if you're wondering what will happen to FNAF:Puragory, development has stopped. Thanks so much for your support for FNAF:Purgatory! I'll still do my best to fix bugs, but I consider FNAF:Purgatory finished.

I'm doing my best to take all of the feedback from FNAF:Purgatory to make FNAF:Purgatory 2 an amazing sequel. I hope you'll enjoy playing FNAF:Purgatory 2 early this June.
Have a question? Leave it in the comments, and I'll do my best to get back to you!

(Also! I plan on releasing both FNAF:Purgatory and FNAF:Purgatory 2 on Gamejolt as well! More details in the next devlog)
EDIT: The game is out now! Play it here!

Comments
Log in with itch.io to leave a comment.
Early june. ist early August now :)

Thanks, but FNAF:Purgatory 2 has been released since June 17th ;)
I made the announcement in this devlog! I just released an update to the game a couple days ago.
(I'll edit the devlog to reduce confusion for future readers)