FNAF: Purgatory
FNAF: Purgatory 2 coming June 17th!
---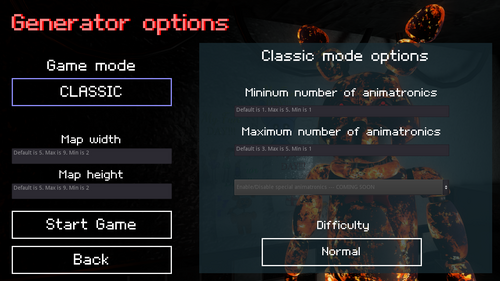 Hi everyone!
I'm happy to announce that FNAF:Purgatory 2 alpha version 0.1.0 is coming out on June 17th!
I planned on releasing the first alpha this weekend, but unexpected external factors have delayed the development. Everything seems to be smoothed out, and I think it'll be ready on the 17th. The delay will allow me to focus on fixing bugs and doing some QA.
To help with the wait, here's all of the current features in the game:
Two game modes: Classic mode, which is just like FNAF:Purgatory, and an all new Purgatory mode
All three of the 'standard' animatronics: Freddy, Bonnie, and Chica
A new animatronic for Purgatory mode
Beginnings of a story: complete with voice acting!
Re-mappable controls, and volume controls
Randomly generated maps with customizable parameters
Better jump scares. Hopefully they are more scary and jumpscare-like
All of the graphics are redone with a more realistic look.
All of the audio has been replaced with sounds from GameSounds.xyz and music from Youtube's audio library
Redone animations. Hopefully they look better!
Made with Godot version 3 (pre-alpha), which brings better graphics, a new audio system, and other various improvements!
Also, FNAF:Purgatory is now on Gamejolt! You can find my Gamejolt page here, and the game page here.


If you have a question, let me know in the comments!